Mercedes-Benz 190 SL Service and Restoration
The Mercedes-Benz 190SL was produced as a convertible with an optional removable hardtop, from 1955 to 1963. The iconic sports cars styling was based on the famed, limited production 300SL "gullwing" and roadster of the same era. The 190 featured a fully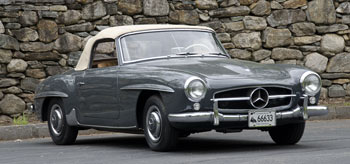 independent suspension, double wishbones up front and swing axles in the rear, similar to the 300SL.
Steel unibody construction eliminated the intricate and costly tubular chassis of the 300SL and allowed for greater production at reduced cost. Although priced higher than most European sports cars of the era, the 190SL was affordable to upscale American customers looking for European flair. Build quality and attention to detail were hallmarks of Mercedes-Benz back then and are reflected in the premium value placed on well cared for and restored Mercedes-Benz cars of this era.
The 1.9 liter, inline 4-cylinder engine is fed by 2 Solex carburetors and produces 105 hp at 5,700rpm. Even with aluminum hood, trunk lid and doors, the 2,600 pound 190SL is rather heavy for a sports car, as a result performance and handling are modest. While many Americans thought of the 190SL as a sports car like the 300SL, it was in reality more of a sport touring car.
Early unibody constructed cars were prone to rust and as a result a limited number have survived. Nice restored examples like those pictured here have rapidly increased in value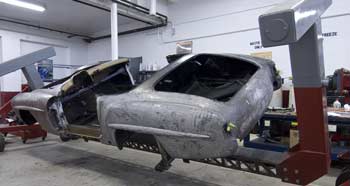 over the last few years.
A total of 25,881 190SLs were built during the 8 year production run with very few changes to the original design. All had 4-speed manual gearbox. In 1956, a seven day mechanical wind up clock was added to the dash and in 1959 the hardtop's rear window was enlarged.
All the Mercedees-Benz 230, 250 and 280SL's pictured here have been serviced or restored to the highest standards by Oldtimer Restoration Center.