Mercedes-Benz 280SE 3.5 Coupe & Cabriolet
The 1971 Mercedes-Benz 280SE 3.5 Cabriolet is powered by a fuel injected, single overhead cam, 3.5 liter V-8 producing 230 horsepower. This cars smooth and powerful engine features a cast-iron block and aluminum cylinder heads and weights only 55 pounds more than the 6-cylinder engine commonly used in this car. This V-8 was the most technically advanced production motor produced by Mercedes-Benz in 1971. Capable of propelling this luxury car from 0-60mph in less than 10 seconds with a top speed over 120mph.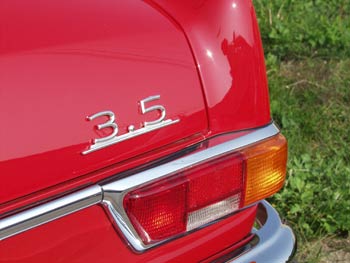 The basic body style dates back to the 1961 220SE with some slight alterations. Only 1,232 convertibles were produced between 1969 and 1971. With the exception of the 600 series these cars were the flagship of the Mercedes-Benz production line. Features include power steering and brakes, stereo radio, air conditioning, electric windows and automatic transmission. The 1971 price tag for this car was $14,500.
The styling, build quality and driveability of the Mercedes-Benz 280SE 3.5 coupes and cabriolets have made them two of the most prized automobiles of the 60s and early 70s. Collectors have recognized the build quality and low production numbers make these cars special and subsequently the prices for nicely kept or restored examples have increased dramatically in recent years.
Although not ground up restorations, the 280SE 3.5 coupe and cabriolets featured here have undergone upholstery and wood restoration as well as extensive mechanical service and restoration by Oldtimer, producing cars that drive as if new.