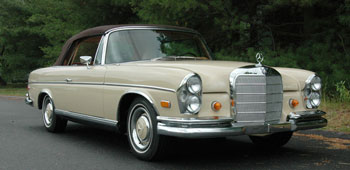 Mercedes-Benz 1965 300 SE
The 708 Mercedes-Benz 300 SE Cabriolets built from February of 1962 through January of 1967 were the pinnacle in power, style, luxury and performance and the finest convertibles manufactured by Mercedes-Benz during this period. Built to Mercedes-Benz's legendary high standards, the interiors of these cars were luxuriously trimmed in sumptuous leather and wood. Powered by a 3-liter, fuel injected, overhead camshaft, all aluminum, in-line 6-cylinder engine–similar to that used in the 300SL Gullwing and roadster–producing 195 horsepower, it was capable of outstanding performance.

The 300 SEs luxury ride comes from a self-leveling, air-suspension system similar to the suspension found in the pricey 600 Limousine. An air bellows at each wheel instead of coil springs and shocks, provides a smoother ride than most cars of this era.

Standard equipment included, power windows, four-wheel power disc brakes and power steering. Most came with automatic transmission, a 4-speed manual was also available.

The 1965 300 SE pictured here has undergone a complete frame-up restoration by Oldtimer Restoration Center, here in our Harvard, Massachusetts shop. The paint is the original 450 Milano Beige and the interior is cognac leather. A modern stereo system has been added with all components hidden from view.