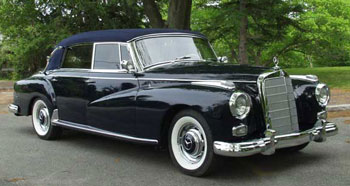 1960 Mercedes-Benz 300d Cabriolet D
The Mercedes-Benz 300 "Adenauer" series 4-door limousine was produced as a luxury sedan and convertible from 1951 to 1962. The original 300 debuted at the Frankfurt Auto Show in April 1951. Four variations of the 300 were produced beginning with the 1951 to 1954 model. As significant updates and design changes were made the model designation changed to 300b from 1954 to 1955, then 300c from 1955 to 1957, culminating in the 300d from 1957 through 1962.

The large pillar less 4-door convertible was built on an X-shaped tubular frame providing the strength needed to maintain the body integrity of this long wheelbase convertible. Early rear suspension utilized a unique dash mounted electromechanical load leveling system to compensate for heavy loads.

The 3-liter (2,996cc) engine was originally fed by dual carburetors, while the later models utilized low-pressure mechanical fuel injection, producing 180 hp at 5,500 rpm. Most 300d models sold in the US had 3-speed automatic transmissions, and power brakes.

With a 1950-60's price tag that would have bought 3 Cadillacs, these cars were only affordable to wealthy buyers and governments, notable purchasers included, Frank Lloyd Wright, Yul Brynner, Al Hirt, Prime Minister Nehru, and the Shah of Iran. West German Chancellor Konrad Adenauer—hence the nickname—owned six of these cars over the years.

The 1960 300d Cabriolet D pictured here is one of 65 made between 1957 and early 1962. This 300d has undergone a complete frame-off restoration by OldTimer Restoration Center. All major mechanical components including engine, transmission, brakes and leveling system have been restored to like new condition. This car drives as well as it did the day it was purchased.

The interior has been reupholstered in rich cream leather with dramatic blue contrasting trim. Electric windows, power door locks, remote trunk and gas cap release, although not original were added for convenience using Mercedes supplied equipment.
As requested by our client, a custom designed CD/DVD surround sound entertainment system has been installed in the original dashboard. This was accomplished without modification to the wood dashboards outer appearance.
click image above to see enlargement
AWARDS
May 2003
Greenwich Concours
Best Mercedes-Benz

June 2003
German Car Day
Museum of Transportation
Brookline, MA
Best Mercedes-Benz & Best in Show

September 2003
Limerock Vintage FallFest
Best in Class