Mercedes-Benz 1963-1971, 230SL, 250SL, 280 SL
Mercedes-Benz entry into the consumer sports car market of the mid-sixties were the three W113 chassis SL models: the 230 SL, the 250 SL, and the 280 SL. The car was designed by French painter, sculptor and master coach builder Paul Bracq, who was chief of Mercedes-Benz design from 1957-1967. These attractive "SL" sports cars were produced with great attention to detail and a build quality superior to other production cars of this era and as a result have remained sought after classics. Production of the 280SL ended in 1971.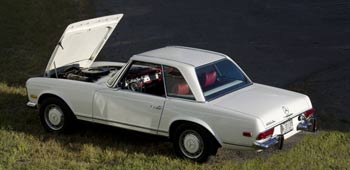 The W 113 SL's are sometimes called "Pagoda" cars, referring to the distinctive Japanese Style Pagoda shape of the hardtop roof. The centerline of the roof is slightly lower than the sides allowing easier entry and exit while permitting larger side windows and a roof strength capable of supporting a 2000 pound load. This unique hardtop is a patented design by pioneering safety engineer Béla Barényi, head of Mercedes-Benz department of safety from 1939-1972. This same roofline was carried into the next generation of SL's, the 107 chassis cars built from 1973 to 1989.

The 1963 SL-series began with a straight 6-cylinder engine with a displacement of 2306 cc, producing 150 hp at 5500 rpm. This engine was updated in December 1966 with a new 2436 cc unit, still delivering 150 hp. This new engine featured a crankshaft with seven bearings instead of the original four. In December 1967 the first 280SL was produced powered by a 2778cc engine developing 170 hp at 5750 Rpm. All SL engines had a mechanical fuel injection system and most had an automatic transmission.
All the Mercedees-Benz 230, 250 and 280SL's pictured here have been serviced or restored to the highest standards by Oldtimer Restoration Center.
---
Production Numbers:
Production for the 230SL from March 1963 until January 1967:



1963=1,465 units
1964=6,911 units
1965=6,325 units
1966=4,945 units
1967=185 units
Total 230SL=19,831 units

Production of the 250SL from November 1966 until January 1968:


1966=17 units
1967=5,177 units
1968=2 units
Total 250SL=5,196 units

Production of the 280SL from December 1967 until March 1971:
1967=143 units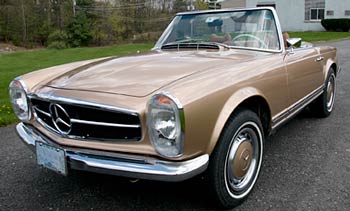 1968=6,930 units
1969=8,047 units
1970=7,935 units
1971=830 units
Total 280SL = 23,885 units

Total W 113 SL's=48,912