RESTORATION at Oldtimer Restoration Center
Of the many catagories of restoration, none are more complex or have such varying skill levels as antique automobile restoration. This can range from a backyard hobbiest restoring a favorite car of his youth, to the purely cosmetic body filler and paint job of a local collision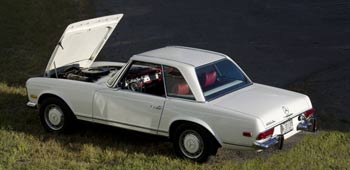 shop, all the way up to the complete remanufacturing and refitting of every component on a show car, undertaken by a group of skilled craftsmen.
The Oldtimer restoration process begins in our shop with a complete examination and evaluation of the vehicle. We then have a detailed discussion with the owner about their wishes and expectations for the car and how they plan to use the car after the restoration. From there we develop a plan based on the owners expectations, outlining the details of the restoration process.
The Concours Restoration
The concours quality restoration process begins in our shop with the total disassembly, photographic documentation and labeling of every part of the vehicle. Each part is cleaned, inspected, researched for authenticity and grouped using the Mercedes-Benz parts numbering system.
Once the entire car is disassembled it is time to repair and rebuild every part down to the smallest detail. Each phase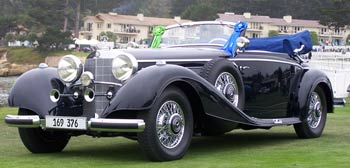 of the restoration including mechanical work, panel fabrication, paint, upholstery and chrome is handled by a specialist with years of experience. Each part is brought back to original factory specifications by meticulous craftsmen. Mechanical parts worn beyond repair are replaced with new or rebuilt original equipment parts. Hard to find parts are tracked down through our network of suppliers, or remanufactured by a skilled machinist.
Owner Jim Cosgrove is personally involved with every aspect throughout the restoration process. He oversees and inspects all the work performed during the restoration and does much of the work himself.
Once the dismantling process is complete the body is mounted on our custom designed solid-beam rotisserie. Each model we work on has a unique fixture that aligns the car to a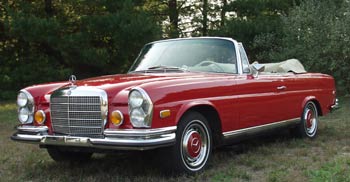 factory specified datum line down the center of the vehicle, keeping the frame and body parts in proper alignment throughout the restoration process. This allows us to perform panel fabrication and replacement without distortion.
The body and frame are stripped to bare metal and inspected to determine what repairs are needed. Body panels in need of extensive restoration work are assigned to the metal fabricator. The fabricator will repair or replace all body panels with metal to maintain the structural integrity of the car.
While the panel fabrication is under way, all the chrome trim is stripped to the bare metal substrate. This is an important step that is often done incorrectly. Many chrome shops use one strip tank to strip steel parts, brass parts and pot metal. Put brass in steel strip and you etch the brass and loose fine details (like engravings on headlight rings). After stripping, all trim is hand worked to remove dents and dings and refitted to the car in its bare metal substrate form. This allows us to replace or repair any damaged mounting hardware and reshape trim that has been modified in the past. Where trim is missing or damaged beyond repair, we fabricate new trim from original trim stock material. The trim is then returned to the platting shop for copper platting to fill any imperfections in the metal substrate and hand buffed to produce an ultra smooth surface. The quality of the copper plating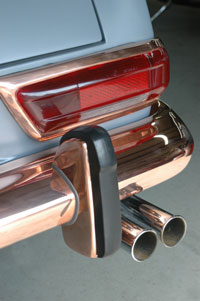 and buffing is critical to the process. Small imperfections in the copper will be magnified by the high gloss of the final chrome.
While work is going on with the body, all mechanical components are being rebuilt. Gauges are cleaned, repaired, calibrated and cosmetically rebuilt as needed. All electrical components such as fuel pumps, wiper motors and window regulators are rebuilt or replaced depending on cost, availably and authenticity of replacement parts. The engine and all related parts (injection pump, starter and alternator) are meticulously rebuilt to factory specifications, then run in on our test stand. All mounts for engine, transmission and suspension are replaced in preparation for installation.
The body of the car goes to the paint shop for finish bodywork, primer, block sanding and a final urethane primer before returning to our shop for preliminary fitting. At this point, each trim part has been copper plated and block sanded until it is mirror smooth and buffed to a high luster finish. We then refit all the exterior trim in its copper stage to the primed body allowing us to make any final adjustments to the trim fit, before it goes for its final nickel, and chrome plating.
All interior panels are stripped to bare backing boards. Every layer of leather, padding and backing are examined to determine how the original trimmers built the panels.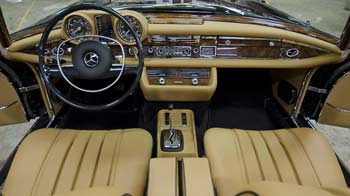 We will repair or replace backing boards and supports as needed, repad using authentic felts and cardedwool stuffing, then recover using original style vegetable tanned leather or in some case original stripped or solid velour upholstery cloth. All seat are stripped down to bare frames, broken or weak springs replaced and frames refinished. New pads installed when available or built from scratch when needed.
At this point, which could easily be twelve mouths into the project we should be looking at a painted shell, rebuilt mechanicals, new interior and freshly chromed trim. Over the next few months the body will be reunited with the frame, the wiring harness will be installed, all mechanicals mounted, refinished wood dash installed, new upholstery and top assembled and all trim in place.
The car will then be driven and trouble checked by Jim Cosgrove for several hundred miles to ensure a proper break in period, allowing Oldtimer Restoration Center to deliver a finished car that drives and performs as well as it looks.