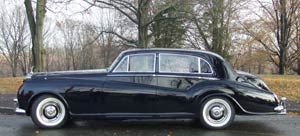 The 1960 Rolls-Royce "James Young" Silver Cloud II Long Wheelbase Saloon was one of the most elegant chauffeur driven vehicles of its day. It combines the elegance and beauty of 1930s European coachwork with the performance, convenience and reliability of a late model luxury car.

Launched in 1959 the Silver Cloud II became the first production Rolls-Royce to be powered by a V8 engine. The new aluminum 6230cc engine gave the Silver Cloud II 280 horsepower to produce a top speed of 115mph. This V8 developed during the 1950s, was utilized with minor improvements, in the modern Rolls-Royce up until the 1990s.

A total of 299 Rolls-Royce Silver Cloud II long wheelbase saloons were produced between 1959 and 1962. Only 38 chassis were outfitted with James Young coachwork over the four years of production, making this an exceptionally rare motorcar.

James Young established his coach building business in 1863, manufacturing a variety of horse drawn carriages, long before the advent of the motorcar. The hand-made quality of old world craftsmanship is evident throughout this Silver Cloud. The James Young coachwork is a marvel of burl wood, stainless steel and chrome. The body features numerous aspects unique to the James Young Silver Clouds, including beautifully sculpted door and trunk handles. The enlarged passenger compartment is fitted with English burl walnut fold down tables and cocktail cabinets, sumptuous leather, reading lamps, and an electric glass divider between the driver and passenger compartments.

The Silver Cloud pictured here has undergone a two-year, 2000+ man hour frame-off restoration by Oldtimer Restoration Center. The car's Best in Class at the 2003 Rolls-Royce Nationals in Newport, Rhode Island is testament to the quality of our work.