SERVICE at Oldtimer Restoration Center
We offer mechanical repairs, preventive maintenance, complete restoration and modernization of 1971 and earlier Mercedes-Benz cars. Our mechanical experience with Mercedes-Benz cars of this era is exceptional. We have restored, rebuilt, tuned and maintained some of the finest vintage Mercedes-Benz cars in the world. Owner Jim Cosgrove–former restoration manager of Hatch & Sons–has over twenty five years of exclusive Mercedes-Benz experience and is personally involved with every aspect of the service and restoration process. All the work we perform will meet or exceed the original build quality of your vehicle, adding real value to your vintage Mercedes-Benz.
We understand that not all customers' desire–or cars warrant– a total restoration. We offer restoration services for clients wishing to repair or restore specific components of their vehicle to insure comfort, safety or appearance. Between our in shop talent and network of top quality automotive craftsmen, we can satisfy all your vehicles mechanical, upholstery, panel fabrication, paint, plating, and wood refinishing needs.
Mechanical Repairs and Rebuilding
Our extensive mechanical experience with vintage Mercedes-Benz automobiles has taught us the value of using original Mercedes-Benz parts. OldTimer strives to bring every repair or rebuild back to original factory specifications. If a specific part is unable to be brought back to specifications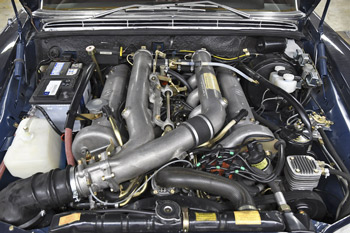 it will be replaced. Occasionally we encounter parts where no original replacement is available, in that case we will refurbish a used part from our inventory of spare parts, or remanufacture the part to original factory specifications.
For engine rebuilding, our shop includes a portable engine test station, allowing us to thoroughly bench test and fine tune an engine before installation. We can monitor RPMs, voltage, oil pressure, coolant temperature and exhaust gases as we fine-tune a freshly rebuilt engine. Greatly reducing the risk to prized fenders and body parts.
Upholstery
Our in house upholstery shop imports unfinished vegetable tanned leather hides. We then have them hand finished, which allows us to exactly match all colors and grain patterns. These hides are then manufactured into seat covers and installed using original horse hair pads and carded wool felts to produce the original look, feel and support. We can skive and split leather as needed to use in sculpting of curved and round dash parts.
Convertible Tops
We perform convertible top repair, restoration or replacement on a variety of vintage vehicles. From the simple canvas ragtops of the early roadsters, to the complex 4-door Cabriolet tops with suspended stretch wool headliners, multi layer horse hair or coco fiber pads and solid glass rear windows. With all our top replacements we always service and repair the frame first, so the top operates as it was originally engineered.
Concours Support and Transportation
Many of our clients enjoy showing their antique car at shows around the country.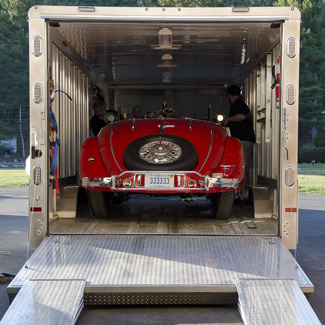 We offer pre-show detailing and enclosed transportation and support for clients wishing to display their vintage vehicle. Many of our restorations have received awards at some of the most prestigious car shows in the country. Let us give you more confidence at the next Concours d'Elegance, or local show. For more info, go to the gallery page, where a selection of our show winners are displayed. Showing a car and winning awards builds a provenance on a vehicle, thereby adding value as a collectible.
Pre and Post Seasonal Service
Here in the Northeast your vintage vehicle requires specific care when being stored for the winter season–and revived for the summer months. OldTimer can provide that critical service that insures a season of carefree vintage motoring.
Purchase Consultation
Many of our clients involve us in their quest for a specific vintage Mercedes-Benz. If you are considering the purchase of a pre 1971 Mercedes-Benz we offer inspection and assessment of your potential purchase in our Harvard, Massachusetts shop. We are also available for out of state or auction purchase assessments.